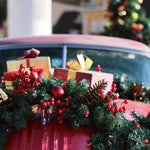 Christmas is the time of year to buy the people you love something they will appreciate. Instead of buying them something generic, think about their interests and what they will love to open on Christmas morning. As fellow Travel Addicts, we can guarantee that your wanderlusting loved one will appreciate something which is travel-themed.
The Name of their Favourite Place
Do they have a favourite place which they can't wait to visit? We have a selection of t-shirts with some popular global destinations such as New York and London. This way they can share their passion for a place when they are out and about.
Working from Home
Do they work from home? A wall print which shares their love of travel will help inspire them throughout the day. They can add it to their favourite frame and keep dreaming of travel whilst spending time in the office.
Click here to shop wall prints
Something to look forward to
An overnight stay makes the perfect gift for anyone who loves to travel. A trip away no matter how near or far is something to look forward to and they might even take you with them - Which is a win-win! Some of our favourite UK staycations include Liverpool and London.

RELATED: 5 Fun Things to do in Liverpool
Have a Staycation booked?
As mentioned above, overnight stays make popular gifts, it often means you can go along with them! Alongside the print out of the booking, gift them a Staycation sweatshirt so they have something fun to open and comfy to wear whenever ever the staycation happens.
Click here to shop the Staycation sweatshirt
Keep dreaming with a magazine
Give them the chance to keep dreaming and gift them a magazine, our friends at House of Coco have lots of amazing articles to keep that wanderlust alive during the dark, winter nights. A subscription is a gift which keeps on giving as they will receive issues for months to come too.
A little bit of sunshine in a mug
Christmas is a time of mulled wine and hot chocolate. Give the gift of one of our Summer Vibes to keep that sunshine feeling all year long. Just add their favourite hot drink to create a summertime hug in a mug!
Click here to shop the Summer Vibes mugs
Their favourite tipple
Have they mentioned a favourite drink they had somewhere around the world? Why not get them a bottle so they recreate it at home. One of our favourites is Mount Gay Black Barrel which reminds us of rum punches in Barbados!

RELATED: Mount Gay Rum Tour
For when you're not sure
If you're still feeling stumped for ideas take a look at our Christmas Gift Shop which has even more of our travel-themed products and if you can't decide to treat them to a Dreamers who Travel Gift Card.
Click here to shop for Gift Cards

Keep the travel dreams alive in 2020 with something inspired by travel, we can guarantee your travel addicted loved one will really appreciate the extra effort to get them something they love!
About the Author:
Caroline Towers is the founder of Dreamers who Travel.  When not travelling, she is researching & dreaming of the next trip!