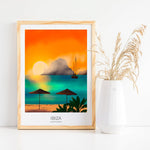 The festive season is on its way and what a delightful time of year it is! The hunt for the perfect present begins, with the most important question: What do you buy for that insatiable traveller in your life? The one who has passport stamps in abundance, tales of far-off lands, and an undying case of wanderlust.
Our travel-inspired wall prints make the perfect gift for any globe-trotter, here's why:
Every Journey Tells a Story
Whether it's the streets of Dublin, the sunset of Ibiza, or the serene beaches of Goa, every traveller has that one place that's imprinted on their heart. A travel-inspired wall print captures not just a location, but a cherished memory. It reminds them of that funny incident with a local, the delectable street food they stumbled upon, or the song that played in the background during a perfect evening.
A Cure for the Wanderlust Blues
For our travelling friends, grey days at home can be especially challenging. A travel-inspired wall print is like a window to a distant land, a daily reminder of adventures past and the ones yet to come. It's a piece of escapism, right in the living room. On a particularly gloomy day, a glance at a print can transport them back to sunnier climes, even if just in their imagination.
A Classy Decor Statement
Beyond the memories and dreams, let's not forget the simple artistry of these prints. They're downright gorgeous! They can instantly elevate any space, be it a cosy bedroom nook or a sophisticated living area. A beautifully framed print of the Eiffel Tower or the canals of Venice can be the centrepiece of a room, evoking compliments from every guest. 
Sustainability, One Print at a Time
When we think of travel, we often consider the environmental implications. Gifting an exquisite wall print is a sustainable way to celebrate the beauty of the world. No shipping of bulky souvenirs, no production waste from gimmicky travel gadgets. Just a simple, elegant, and eco-friendly tribute to the planet's wonders.
So, the next time you're scratching your head over the perfect pressie for your globe-trotting mate, consider a travel-inspired wall print. It's not just a piece of art; it's a portal to memories, a celebration of adventures, and a testament to the journeys that shape us.