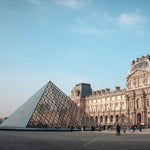 Whilst you might be staying at home for the foreseeable future, it doesn't mean you can't still explore - You just have to do it from the comfort of your own sofa! We've searched the web and found some of the best virtual museum tours to transport yourself there right now!
Thanks to the internet and virtual reality you can now visit many of the worlds top museums from the comfort of your own home.
Here are 7 of our favourite virtual museum tours:
The British Museum
The British Museum is the world's largest indoor space on Google Street View which allows you to virtually visit over 60 galleries. You can virtually view the Rosetta Stone in the Egyptian Sculpture Gallery or discover beautiful textiles in the Sainsbury African Galleries.
Guggenheim
The Guggenheim has many different virtual ways to connect with its iconic art and architecture from around the world! Visit their website to book your tour.
Louvre 
An icon of Paris, the majority of the Louvre Museum is closed right now but that won't stop you from exploring some of the famous paintings and galleries. From the Galerie D'Apollon to Power Plays you can get a feel of what the Louvre has to visit when you can travel to Paris again. Take a virtual tour through the website.
Vatican Museum
Alongside visiting the Sistine Chapel and St Peter's Basilica you can virtually visit many other the art exhibitions in the Vatican Museums. The Vatican is more than the Sistine Chapel and St. Peter's Basilica. In fact, it has many works of art across the Vatican museums via its website.
RELATED: 3 Tips for your first trip to Rome 
The Met
New York City's The Met has created its 360 Project, allowing you to virtually explore its art and architecture in a fresh, immersive way using video.  
Van Gogh Museum
The Van Gogh Museum in Amsterdam houses the largest collection of artworks by Vincent van Gogh in the world. Googles Arts and Culture allows you to view some of the best Vincent Van Gogh works from the comfort of your home!
National Gallery
The National Gallery in London has three virtual tours so you can step inside the Gallery and explore one of the greatest collections of paintings, from the comfort of your home.
We hope it won't be long until you can visit these museums in person but until these virtual tours are a great way to spend time whilst you're at home.
Which virtual tour are you looking forward to taking first?
About the Author:

Caroline Towers is the founder of Dreamers who Travel.  When not travelling, she is researching & dreaming of the next trip!