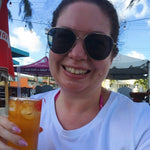 What a crazy few months it has been! Just 13 weeks ago I was on holiday in Barbados having the best time. Just 2 days after our return home the UK went into lockdown and we are still partially in one.


I was recently looking through some of my content from Barbados and found this takeover from the last full day in Barbados - As there is not much travel content available right now I thought it would be nice to share!

Click here to watch the short video of my Instagram Takeover on the Dreamers who Travel Instagram account.
Hopefully, this will give you some inspiration for when you can travel again. I would highly recommend heading to Barbados sometime soon, they will need the support of tourism more than ever when we can all travel again!
When you can travel again we would love to invite you to do a Takeover, send us a DM on Instagram if you would love to be considered!
About the Author:

Caroline Towers is the founder of Dreamers who Travel.  When not travelling, she is researching & dreaming of the next trip!