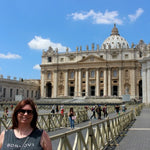 Rome is such an amazing city for a city break and somewhere I'd definitely go back to. If you are planning your first trip to Rome in the future, here are my top 3 tips for your first stay, including visiting the main Rome attractions, where to stay and of course, Italian food and drink! 
Attractions
Before arriving in Rome it is wise to purchase your tickets for some of the most popular attractions Rome has to offer beforehand. I purchased tickets for both the Colosseum and the Vatican a few weeks before directly from their websites. This will save you time when you arrive as you don't have to queue for tickets. You will only queue to enter and have your bags checked. If you're not going to be in Rome for long, you want to spend more time exploring and less time queuing!
Accommodation
My hotel was La Mongolfiera Rooms. From what I can gather, almost all the hotels in Rome are small guesthouses behind hidden doors. They are converted into multiple hotels and apartments all within one building. I'd recommend the hotel I stayed in (it only has 5 rooms). Anywhere around the Piazza Navona is a good base to set yourself for a first-time visit. This area means all of Ancient Rome is within walking distance, with a 30 minute, steady walk you can get to the Colosseum, The Vatican and pretty much everywhere else you would want to visit on a short city break.
Food and Drink
The Piazza Navona (the area I stayed in) is a big square with restaurants around it. The hotel advised to not eat at these because they can be expensive and not as good quality. On the last morning, I did have breakfast at one because it was early and nowhere else was open but I wouldn't rush to recommend it. These restaurants on the Piazza are nice to have a drink if you want to relax and do some people watching.
Just off the Piazza are plenty of restaurants and we had some great meals. As a rule, if you go 2 or 3 streets from any of the main tourist attractions you can find excellent food. For the 3 days of my trip, I lived off pizza, pasta and a little gelato. To drink, of course, there was lots of prosecco drunk along with the house white wine (which was always good and very cheap) and Aperol Spritz. These are all recommended by me to enjoy your trip to Rome in style!
About the Author:

Caroline Towers is the founder of Dreamers who Travel.  When not travelling, she is researching & dreaming of the next trip!