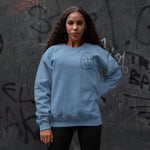 Although right now you might be spending your days staying safely at home, it doesn't mean you still can't add some style to your wardrobe.

It's time to get out of your pyjamas, dress up and cosy down with your lockdown locks.
British summertime has already had it's high and lows so with t-shirts which are perfect for the hot summer days, sweatshirts for the cool evenings or chilly afternoons working from home and water bottles to stay hydrated, the lockdown style is effortless!
Stay stylish, even if for now, it is in your own back garden.
The Lockdown Sweatshirt Edit:
International Arrival Passport Stamp Sweatshirt
Anchor Passport Stamp Sweatshirt
The Lockdown T-Shirt Edit:
Thailand Passport Stamp T-Shirt
The Water Bottle:
Palm Sways Aluminium Water Bottle
Click here to shop the full Dreamers who Travel travel-inspired boutique