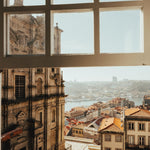 Portugal is a country located in South Western Europe on the Iberian Peninsula of the Atlantic Ocean. It shares borders with Spain, and its capital city is Lisbon. 
Portugal has been a critical player in some of history's most significant moments, and it has a lot more to offer visitors and locals alike.
With its sandy beaches and strikingly beautiful city, Portugal is a prime travel destination for many. So, without further ado, let's visit Portugal with this ultimate guide!
A Sneak Peek into Portugal
Check out some of the things you need to know and can expect when visiting Portugal below:
Language: The official language in Portugal is Portuguese.
Currency: The Euro is the official currency used in the country.
National Dishes: Grilled sardines and salt cod.
Credit Cards and ATMs: Most hotels and outlets accept credit cards. Various ATMs are also strategically positioned in airports, shopping centres, and hotels. This saves you the hassle of walking around with loads of cash.
Safety: Portugal is ranked the 13th safest country in the world. The rate of crime is low; hence there's really no need to worry for your safety.
The Cost of Living: You can comfortably live on 100 Euros per day while on vacation in Portugal.
Top Places to Visit in Portugal
Like all the other European top travel destinations, Portugal has many places of interest you can visit. Here are some of the top places to visit in Portugal. 
Sintra, Cascais, and the Cabo da Roca Coast
These destinations offer the perfect location for day trips, allowing you to get away from the hustle and bustle of Lisbon. In addition, these sites offer both natural and architectural beauty that you can't find anywhere else.
Experiences
Visit the Romantic Pena Palace, located in Sintra, whose rich history begins in the middle ages. Nothing gives more a feeling of royalty.
Enjoy the scenic views of the Sintra mountains drive-through.
Make a stopover at the Roca Cape Cliff, which is continental Europe's westernmost point.
Enjoy a walk through the stylish town of Cascais. A leisurely stroll along the bay is the perfect way to end your trip before heading back to Lisbon.
Douro Valley
Every time Douro Valley is mentioned, fantastic wine tasting experiences come to mind. Douro Valley is a world-heritage-listed region, well-known for its port wine production. A cruise boat on the Douro River offers the perfect view of the valley's beautiful vineyards.
Experiences
Wine tasting sessions at traditional wine estates in the heart of the valley.

Learn about the history, heritage, and culture of the people of Douro Valley.

Enjoy local Douro Cuisine lunch at reputable local restaurants.

Participate in a Douro River Robello boat tour for a scenic view of the valley.
Tour companies in Porto offer guided tours to the Douro valley for a whole day at very competitive package prices.
Benagil Sea Caves
If you are in Portimao, the next spot you should visit is the Benagil Sea Caves. The Benagil Caves are located along the southern coast of the central Algarve. Their stunning and unique beauty has helped them rank high among the must-visit tourist destinations in Portugal. 
To get there, you will travel by small boat into the sea cave where you will discover some picturesque rock formations. Within the locality of the caves are lovely beaches that will leave you breathless.
Experiences  
Explore the rugged sea caves of Benagil.

Experience the unique, eye-catching beaches.

Boat trips to other close beaches.
Praia da Marinha
Praia da Marinha beach is a must-visit destination while in Portugal. While it has been ranked as one of the most beautiful beaches worldwide, you won't really need to be convinced to agree with this vote once you get to experience the beach for yourself.
Experiences
Breathtaking views. The beach is surrounded by high cliffs that give it a magical experience. The panoramic view of the beach that you will get from these cliffs is something that will remain etched in your mind for a long time.

The M-rock is also called the cathedral. This is a rock formation on the beach shaped like a letter M. You can see this from the beach when the tide is low. A view of the cathedral from the high cliffs is spectacular.

Snorkeling. The uniquely calm blue waters of the Praia da Marinha are so clear that they're almost transparent, and they offer the perfect spot for snorkeling.
The Towns of Obidos, Fatima, Batalha, and Nazare
This will require another full-day trip from Lisbon. On this trip, you get to visit two UNESCO  heritage sites-the monastery of Batalha and the Monastery of Santa Maria d'Alcobaca. 
Here, you will get to immerse yourself in the beautiful countryside of Portugal combined with the fantastic views of the Atlantic Ocean.
Experiences
See the Monastery of Batalha, which is a Gothic relic.

Enjoy a guided tour of the Medieval village of Obidos.

Visit the sanctuary of Fatima, an important location for the catholic faith and pilgrimage.
Lisbon
Lisbon is a beautiful city that is laden with historically significant landmarks. A day's guided tour in Lisbon can be an excellent experience if it's your first time visiting Portugal. To give you a clearer idea, here are some of the best experiences Lisbon has to offer.
Experiences
Visit historical landmarks, such as Belem Tower, Jeronimo Monastery, Praca de Comercio public square, Rossio square, all of which have prominent bronze water fountains.

Enjoy a boat ride on the mighty Tagus river.

Experience beautiful sunset boat cruises for drinks and dinners.
Porto
Porto is one of the most beautiful cities in Portugal. It is a coastal city situated on the mouth of River Douro. 
Porto is also the second-largest city in Portugal after Lisbon. It is famed for its port wine cellars and the vineyards that surround this beautiful city. Moreover, being an old city, it offers spectacular architectural views.
Experiences
Visit the Bolsa palace and take time to immerse in its beautiful interior.

Explore the historic Ribeira,Bolhao and Baixihia districts.

Sample the traditional Portuguese cuisines of custard tarts and codfish cakes at the Ribeira square.

Go for a sightseeing boat cruise on the Douro river.

If you look at books, a visit to the Livraria Lello-a beautiful Neo-Gothic library is worth your time.
Conclusion
Visiting Portugal allows you to enjoy marvellous and unforgettable experiences you can treasure forever. Still, to get the best out of your visit to Portugal, you need to get in touch with local tour companies. They will offer you cost-effective package tours to the above-listed areas of interest.