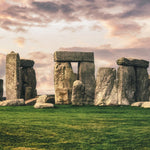 England has a lot to offer in terms of things to do and places to see, but tourists don't often bother to explore places beyond London, and even native Brits usually prefer travelling abroad for a bit of sunshine. This is a real shame, because there is plenty to keep anyone entertained around the country.
Not convinced? Here are ten of the best places to visit in England that will change your mind!
The 10 Best Places to Visit in England
Stonehenge
One of the country's most famous sites, Stonehenge is instantly recognisable. These vast prehistoric stones, put up at some point between 3000BC and 2000BC, still pose a mystery to historians, who can't quite figure out how or why the stone circle was built.
It's a really incredible monument and something you have to see to believe. Visit at the winter or summer solstice for an even more magical atmosphere.
Bath
Bath is home to one of England's best-preserved Roman monuments, an incredible bath house that dates back to 43AD. If you're not much of a history buff, take a trip to the city's modern natural spa instead, featuring a beautiful rooftop pool with naturally warm spring water, and go for a dip.
The city itself has been named a UNESCO World Heritage Site, and there's plenty to do besides just soaking in a tub. Take a walk around the Royal Crescent for a look at some of the city's most beautiful architecture, as seen in numerous period dramas and films.
The Cornish Coast
Parts of the coast of Cornwall have to be seen to be believed – there's no way that some of those beaches are in England! But they are.
With blue seas and white sand, St. Ives looks more like a Caribbean island than an English seaside, and St. Michael's Mount could be something out of a fairy tale.
Whether you're looking for quaint fishing villages, soft sandy beaches, great surf or just a good plate of fish and chips, the Cornish coast can – and will – deliver.
Brighton
Brighton is one of the most fun cities in England for people of all ages. Kids and adults alike will love the charming pebble beaches and pleasure pier, complete with a rollercoaster and an old-fashioned carousel.
If you're looking for something a bit different, head to the Royal Pavilion for an afternoon of history and unusual architecture… or just sit yourself down at one of the city's 900 pubs for a few pints!
The Lake District
The Lake District National Park is home to England's highest mountain, Scafell Pike, and there's plenty here to keep even a seasoned outdoorsman entertained. Lace up your walking boots and hike up a mountain of your choice, or hire a boat in one of England's deepest lakes for a day on the water with your kids.
Just don't forget to pack your brolly – Lake District weather is notoriously temperamental!
York
If you're not so keen on hiking or canoeing, why not pay a visit to York? With a castle dating back 1000 years, a Gothic cathedral to rival the largest in Europe and a fascinating Roman history, York is one of the most interesting and picturesque cities in the whole of the UK.
Bookworms can even explore the wizarding world of Harry Potter by taking a stroll down Shambles, a medieval shopping street thought to be the inspiration for J. K. Rowling's Diagon Alley.
The Cotswolds
The Cotswolds is one of England's Areas of Outstanding Natural Beauty, and it's something of a walker's paradise. Stretching from Bath all the way up to Stratford-upon-Avon, the Cotswolds' far-reaching area is home to numerous market towns and quintessentially English villages – Bourton-on-the-Water, Chipping Camden, Cirencester, Stow-on-the-Wold and Bibury Village are just a few examples.
With riverside pubs, hill walking, country houses and lively market towns, the Cotswolds is well worth a visit.
Manchester
Manchester isn't just a good city for football fans (but it certainly can cater to them!). It's also an ideal destination for anyone looking for great nightlife, great food, great music and great art.
Once thought of as a bit of an industrial has-been, the city is now full to the brim, offering hip neighbourhoods like the Northern Quarter and the Gay Village, a huge Chinatown, hundreds of pubs serving locally brewed beers, and arts and music venues to rival England's capital. It's a city loved by locals and visitors alike, and with good reason.
The Jurassic Coast
The Jurassic Coast, a 96-mile UNESCO World Heritage Site, is a huge stretch of breath-taking coastline running along the south of England. As well as famous sites like the Old Harry Rocks and Durdle Door, you can visit quaint seaside resorts like Lyme Regis and Chesil Beach, or take the kids fossil hunting to see what ancient treasures you can dig up.
London
No list of the best places in England would be complete without a mention of London. The UK's capital is one of the most frequently visited cities in Europe, with upwards of 30 million tourists arriving each year.
Buckingham Palace, the Houses of Parliament, Big Ben, the London Eye, the Tower of London, St. Paul's Cathedral, Tower Bridge… even if you manage to see all these sites, you'll have barely scratched the surface of this sprawling metropolis.
London has some of the best restaurants in the country and more than 3000 pubs to help visitors wet their whistle. Museums, galleries and theatres call out to culture-lovers, and you'll be hard-pressed to find a better music scene in the UK. London really can cater to everybody.
Shop your Dreamers who Travel London inspired apparel here.
There is so much to do in England, so what are you waiting for? Plan your trip today!