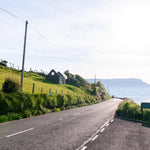 Due to the global pandemic, the staycation is a bit of a buzzword right now. Depending on your thoughts on travel, the current quarantine and travel bans which are currently in place around the globe and whether you've had plans cancelled, it could be that a staycation might be the best or only opportunity you have this year to travel.
What is a staycation?
A staycation is the combination of the words "stay" and "vacation" (the American word for a holiday). The idea behind it is at the stay in the country where you live instead of travelling abroad. This might mean having a night away somewhere close to home or exploring various cities or the countryside a little bit further afield - But still in your home country.
Why consider a staycation?
With the COVID-19 global pandemic, it's pushed many of us to think about our travel plans for the future months. Even when there is no pandemic happening, staycations can still be great options for your travel plans. A staycation allows you to discover a place you've never seen before, even if they're not too far from where you live. It also gives you the time to focus on a place for a few days and get to know it well. Of course, there's the boost to the local economy which staycations also provide as you spend your money on local accommodation, restaurants and attractions.
Where to go on your staycation?
There are so many places to pick from where you live. One of the first things to think about is how you plan to get there, whether it's via public transport or car. If you're travelling by public transport you might want to think about places which are convenient to get to from your home and won't require too many changes or waiting around for hours in stations. If you're going to be travelling by car then it depends on how far you are willing to drive. Once you've made a decision, pull out your Google map and take a look at what is within the transport guidelines you've set out for yourself.
How to plan your staycation?
This is the fun part! Once you know where you want to go then you can start planning. Just because you are staying in your home country, doesn't mean you can't spend time researching it to make it the best trip yet, much like you would when you travel abroad. First, think about your accommodation. Do you want to stay in a hotel, a bed and breakfast or is camping (or even glamping) something you'd like to do? Depending on the area you've selected will depend if b&b's are more of an option than boutique hotels. Once you've booked your accommodation, it's time to research the area. Instagram is a great place to search using geotags and also see if there are any local bloggers to the area you are planning on staying. This local knowledge can make a big difference in finding some of the best places to visit. If you're going to be in the UK then we highly recommend looking at the Girl About website, to see if there is a Girl About blogging about the area you are planning on visiting.


What to take on a staycation
If your staycation is in the UK then you will know you need to take items for any weather. This is the good thing about travelling in the car as you can throw in some extra items. If you're using public transport, don't worry, keep a track of the weather for a few days before. If in doubt include a Dreamers who Travel sweatshirt to keep you warm and a t-shirt in case the sun shines!


If you've decided on camping then our enamel mugs are the perfect travel companion as they help to keep your hot chocolate, soup or coffee warm and are robust enough to be used around the campfire!

The Positives of a Staycation

There are so many positive reasons to take a staycation in your home country. Firstly, you get to explore places you might not have visited for years, if ever before. No matter where you live, there are bound to be some hidden gems. As mentioned before, taking a staycation helps boost your local economy and so many hospitality businesses need that support now more than ever. You also don't have to travel too far to get away, unlike a long-haul flight which can take hours and hours for you to arrive at your destination. Finally, you can take more trips than if you were going on a traditional two week holiday. If you go on your staycation for a few nights, you will have the time and the budget to take multiple trips throughout the year. This means you get to tick even more places off your list!

Keep it simple

You might be disappointed that your plans have been changed through no fault of your own but that doesn't mean it has to be a total disaster. Keep your plans simple, find some places which sound ideal to you and then go. It might not be the same as the tropical destination you had originally planned (depending on where you live) but you can still make the most of being to able to get out and about, find new places and most importantly make awesome memories. You will be able to look back in the future and see what a fabulous time you had on your staycation! There no such thing as a wasted trip, no matter where you travel it's always good to have a break from your daily life, explore new places and take some time out.


What staycation plans do you have? We'd love to hear all about them in the comments and tag us on Instagram using #dreamerswhotravel whilst you are there. We can't wait to see where you end up on your staycation this year!


About the author:

Caroline Towers is the founder of Dreamers who Travel.  When not travelling, she is researching & dreaming of the next trip!