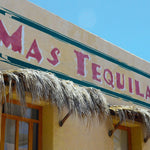 Although the world is slowly starting to open back up again after the global pandemic, you still might not be able or willing to travel anywhere for a little while longer. We've been sharing with you some date night ideas for evenings at home to bring some of your favourite destinations around the world to your dining table!
Bringing Mexico to date night

Mexican food is one of my all-time favourite foods. Whether that's been whilst visiting Mexico or I've had some incredible Mexican meals whilst in California! I can't get enough of Mexican food.


For this date night, we started with Corona Beer, with a slice of lime of course. Corona is a popular Mexican beer, which is easy to access worldwide.


You could put on some Mexican music, such as the Spotify playlist but of course, the best part of Mexican date night is picking the food!
RELATED: DATE NIGHT - BRING A TASTE OF ITALY HOME

There are so many options from a Chilli con Carne, to nachos, fajitas, burritos or enchiladas - To name only a few of my favourites and the more popular exports of Mexico. Although they are not quite as authentic as the real thing, it's as good as we can come up when recreating it for date night!

For date night, we went for enchiladas and they were delicious! You can easily purchase kits to help you or just make it yourself. You need wraps, meat, a tomato-based sauce and plenty of cheese!


It was a great way to spend a Saturday night at home and remember the amazing memories we made on the different trips to Mexico which we have made.

Have you ever been to Mexico or are you feeling inspired to create a Mexican date night now?

Oh Mexico, how I miss you but this date night helped soften the blow of not being there at the moment!
About the author:

Caroline Towers is the founder of Dreamers who Travel.  When not travelling, she is researching & dreaming of the next trip!