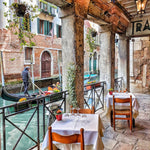 Whilst the summer might not be full of the plans you had hoped for, you can still bring a piece of your favourite travel destinations home.  For date night, recreate the Italian romance with your own Italian night in.
It's not exactly the same as eating in an Italian Piazza but it can keep your wanderlust dreams alive for a little bit longer.
RELATED: Date Night: Bring a taste of Cuba home
Have a date night in Italy
To set the mood, play some tunes, this Italy Lounge Cafe is good for some background music. 
Then it's on to the food.  Of course, there are so many classic Italian dishes you can make. You can never go wrong with pasta and sauce or everyone's favourite - Pizza!
To make the night really special you could make your own, buying bases and adding your own toppings.  We cheated a little bit, after a full-on week, we used shop-bought pizzas!
Along with pizza, there are lots of classic Italian drinks such as Peroni beer and my favourite, Prosecco but for this special Italian date night, we went for Aperol Spritz.
Aperol Spritz is a favourite to drink in Italy, watching the world go by after a day of sightseeing.  Add Aperol, Prosecco and top with lemonade - Finish with a slice of orange and you have a delicious drink.
This date night is one way to keep your travel dreams alive, have a lovely night at home and enjoy some good food and drink, all inspired by a love of Italy!
About the Author:

Caroline Towers is the founder of Dreamers who Travel.  When not travelling, she is researching & dreaming of the next trip!