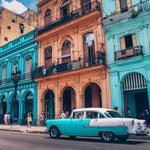 Here in the UK, we are still in partial lockdown and it seems like it will still be quite a while until anyone will be travelling abroad again.
To keep that wanderlust going, create a date night from some of your favourite countries.
Of course, it's not the same but it's a fun way to think of new things to eat and drink as well as pretend you are travelling somewhere.
Today we're taking you on a date night to Cuba.
Pick some of your favourite Cuban beats on Spotify, we like this Cuban Music playlist.
For food, we recommend making Ropa Vieja which is the national dish of Cuba.
We used the Cuban Beef recipe from the Pinch of Nom recipe book.  This is a winner to bring some of those Latin vibes to the dinner table.
Get the Cuban Beef recipe here.
To pair with dinner there's is one obvious choice - a Cuba Libre!
Seeing as this rum, coke and lime is a drink we often have it made sense to enjoy it for this Cuban date night. It's a simple rum and coke with a twist, the lime.  Adding lime lightens up the mix and cuts through the sweetness of the coke.
This date night was a big hit and seeing as Havana is high on our travel wish list, fingers crossed we can recreate this lockdown night at home on the streets of Cuba sometime soon!
About the Author:

Caroline Towers is the founder of Dreamers who Travel.  When not travelling, she is researching & dreaming of the next trip!