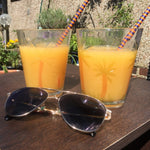 Whilst you're spending more time we're continuing to share different ways you can feel connected to your love of travel.


Today we're all about cocktails & bringing a rum punch to the back garden.

Our Chief Cocktail Maker, Keil, is sharing his rum punch recipe in this video to give you some inspiration on how to bring the tropical sunshine of the Caribbean to your home.


We were fortunate, in the UK, it was especially hot when we filmed this video but cocktails can also brighten up a rainy day inside too!

We hope you enjoy making your own cocktail to bring some Caribbean flavour. Enjoy and tag us on Instagram @dreamerswhotravel enjoying your own homemade cocktail!