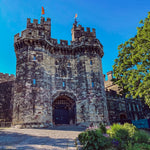 Lancaster is a wonderful city in Lancashire, England. It's only a 10-minute drive from the coast, not far from the Lake District and near to the Trough of Bowland which is an Area of Outstanding Beauty. There are lots of great things to do within Lancaster itself, here are 7 fun things you can do in Lancaster as a couple.
9 fun things to do in Lancaster for couples
Where to Stay in Lancaster

Lancaster Castle View - Staying in your own romantic Airbnb cottage can make any trip a little bit more special. We can highly recommend staying at the Lancaster Castle View, which is a cottage perfect too on the grounds of Lancaster Castle which makes it the perfect location.

Read more about our review of Lancastle Castle View here.
Where to Explore in Lancaster

Lancaster Castle - One of the most famous landmarks in Lancaster is Lancaster Castle. It has a long and varied history and is known best for its crime and punishment. It also plays a significant role in the Pendle Witch Trial. I would recommend taking a free castle tour to learn more about the castle and its history.


Williamson Park - A large park with views of Lancaster and the coastline, it's a lovely place to walk around. Williamson Park is also the home to the Ashton Memorial and Butterfly House. On a nice day, it's lovely to walk around the park.


Pendle Witch Trail - You can walk the last steps of the Pendle witches and beyond on the Pendle Witch Trail. The trail takes you out into the countryside, takes in Lancaster Castle and Williamson Park.
Where to Eat in Lancaster

The Mad Hunter - Inspired by South Africa, this is a must-visit restaurant for anyone who loves to try food from different cultures. The food was incredible, I would highly recommend the starting platter for a nice selection of different things to sample.


The Borough - A friendly pub in the heart of Lancaster (which also has accommodation) you can enjoy a lovely meal at The Borough, the burgers are highly recommended!


The Water Witch - A place you will always find recommended not just because of its canalside location but also great service and good food (& drinks). It's perfect for a sunny day with lots of outdoor tables although on our recent visit booking was essential.
Where to Drink in Lancaster

Lancaster Brewery - As a university city, there are plenty of places to drink in Lancaster. Lancaster Brewery is just a little bit out of the city and you can walk from Williamson Park or get a taxi there. They have a large outdoor seating area with pop-up food stalls which makes for a great afternoon, the drinks are good too!


Tipple - If you're looking for cocktails then Tipple is just the spot with a varied menu and if you go during happy hour you can get jugs of cocktails or bottles of prosecco at a special price!
Lancaster is a great place to visit for your next UK staycation as it is has something for everyone, from a romantic cottage stay to lots of history to good food & drink!
About the Author:
Caroline Towers is the founder of Dreamers who Travel.  When not travelling, she is researching & dreaming of the next trip!