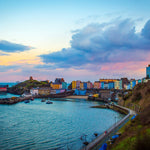 As summertime well and truly approaches, it's time to start thinking about where you might want to go for your summer holiday this year. We all love going abroad, but there are some great places around the UK that make great holiday destinations – especially in the summer months when there's more chance of good weather. To help you plan your UK staycation, we've put together a list of some of the top destinations around the country. Let's take a look!
The Cornish Coast
If you're hoping for sea and sunshine this summer, your best bet is probably Cornwall. With over 250 miles of coastline, you're sure to find a comfortable spot on a sandy beach. Whether you're looking for bustling seaside towns with plenty to do – like Falmouth, Newquay and St Ives – or quieter, unspoilt locations such as the Roseland Peninsula or Port Isaac, Cornwall has it all.
Pack your surfboard and swimming costume, then head down to the Southwest for a few days of fish and chips, Cornish pasties and cream teas. What a treat.
Dartmoor, Devon
If you prefer outdoor activities to relaxing on the beach, why not take a trip to Dartmoor? This national park measures over 350 square miles and is a perfect destination for hikers, cyclers, horse riders and even climbers.
There are plenty of beautiful places to stay around the moor, from cities such as Exeter and Plymouth to small, picturesque villages like Winkleigh and Lydford. You'll find a number of traditional pubs scattered throughout Devon, and you'll still have easy access to beaches if you decide to take a day off from your outdoor pursuits.
The Scilly Isles
While you're in the Southwest, consider making the extra effort to cross over to the Scilly Isles. It's a little bit tricky to get here – you'll need to fly by plane or (the much more fun!) helicopter if you want to avoid the slow ferry crossing, but it's worth it.
If you make the journey to this beautiful archipelago off the Cornish coast, you'll be rewarded with the very best of British weather, as well as crystal-clear blue seas reminiscent of a tropical paradise. With quiet beaches, beautiful nature, water sports and even a spa, the Isles of Scilly are a hidden gem of the UK – not to be missed.
Tenby
If you're looking for a Welsh escape, head to the beach town of Tenby. It's one of the most popular seaside towns in Wales, and it's easy to see why. As well as sandy beaches and a picturesque harbour, Tenby offers plenty of opportunities to go fishing, take boat trips (one to a holy island still inhabited by monks), and walk stretches of the jaw-dropping Pembrokeshire Coast Path.
It's a great place to unwind and relax but there's also plenty to do to keep you and your family entertained for a few days.
The Broads
The Broads of Norfolk and Suffolk makes up the largest protected wetland in the UK, making this a great destination for birdwatchers and nature lovers.
You'll find stunning scenery all over this national park, and there are plenty of beautiful hiking or cycling routes to keep you busy. Hire a boat for a few days and make your way along the 125 miles of manmade waterways. When you're tired of boating, head to Great Yarmouth to relax on a sandy beach and take a ride on the big wheel. It's great fun.
Isle of Skye
The Inner and Outer Hebrides are spectacularly beautiful but are often overlooked as tourist destinations due to the notoriously bad weather this far north. The summer months are the best time to go, as it's warmer, but you should still prepare for rain. If this doesn't put you off, you'll be rewarded for your hardiness with a beauty, peace and tranquillity that can't quite be matched anywhere else in the UK.
Skye is the easiest of the Hebrides to reach as it's connected to the mainland by the Skye Bridge, so you can just drive straight over. Once you arrive, spend time exploring the numerous lochs, fishing villages and castles that are dotted around the island, or take a boat trip out from the west coast to see if you can spot any puffins, seals, dolphins or whales.
Blackpool
Blackpool used to be one of Britain's most popular seaside towns, but it seems to have fallen out of vogue in recent years. This is a real shame, as Blackpool has an old-fashioned British charm to it that is difficult to find elsewhere.
Head to the pleasure beach for a fun day out with the kids, or go up the iconic Blackpool Tower for some beautiful views over the Irish Sea. Ballroom dancing lovers should also book tickets for the tower's famous ballroom –take afternoon tea here if there aren't any events on. It's a trip back in time and is a little rough around the edges, but it can feel almost magical here.
The UK is full of great places to visit during the summer, and this really is just a tiny sample. Make the most of the diversity of landscapes and nature in our island home and plan your trip today!
Written by Chloe Lay