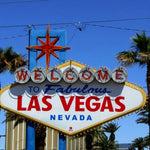 Las Vegas is one of my favourite cities in the world. I've been fortunate to visit Sin City several times and I have experienced lots of different things over the years. There are so many things to do and each year I find new places to visit as it's a city which is always changing. I believe everyone should visit Vegas at least once! 
If you're planning a trip to Las Vegas here are 8 of the favourite things I have done, which I would recommend checking out for your first trip!
1 – Take a Helicopter Tour
One evening I took a helicopter tour over the strip. It was a wonderful experience seeing the whole Las Vegas strip lit up whilst we hovered over the buildings. One of the things I remember most is circling the Stratosphere hotel. The flight lasts around 15 minutes and we had a glass of champagne before and then afterwards a quick photo with the pilot.
2 – Party at the top
There are too many nightclubs and bars in Las Vegas for just one trip. One of my favourite experiences was at the Voodoo Lounge on the 52nd Floor of The Rio hotel. We had a delicious meal in the restaurant before heading up to the lounge bar/club. The Rio is off the strip so you get a side view of the main strip. They also have an outdoor, rooftop section. It is surreal dancing away at the top of the building looking out across Vegas! The Witchcraft cocktail is also a must-try, you can thank me later.
3 – A Show
Speaking of The Rio hotel I also enjoyed watching Penn and Teller here. You have probably seen this magical duo on the TV and they are always incredible. Seeing them live is another level. During their act, they show you how some magic tricks are done and surprise you with an even better trick! Magician shows are popular in Vegas and I would certainly recommend checking out Penn and Teller. My other favourite show was Love by Cirque de Soleil.
4 – The Sign
A typically touristy thing to do is visit the famous Las Vegas sign. It's nice to have a photo at the sign to take home long after the Vegas hangover has faded! When I went I stayed at the MGM Grand and walked to the sign after breakfast. I found it's not too busy at this time, on one visit Elvis was even there to sing to us! I would then recommend walking back through Mandalay Bay and the Luxor. It's a chance to explore these hotels and stop for a drink and some lunch.
5 – The Hotels
Exploring the different hotels in Las Vegas is one of my favourite things to do. Each hotel is huge and they all have their own theme. The detail in each hotel is amazing. It's fun to walk around exploring and taking plenty of pictures. Just remember the size of them, it may not look too far on the map but you do a lot of walking so take comfy shoes!
6 – Gamble
I'm not a big gambler but it is fun to have a little dabble. I tend to stick to the slot machines as I won't lose as much money but occasionally I have a go on the tables just for the experience. If you don't know how to play card games I would stick with roulette as there is no skill involved. If you have no idea what to do then many of the hotels offer free lessons during the day. When you're gambling you can also get free drinks which is always a bonus and you can generally have anything you want!
7 – The Pool
Living in the UK it's nice to see the sunshine and spend some time around the pool. Depending on your hotel can depend on how good the pools are. The pool at the MGM is the best I have experienced with the Palazzo not far behind. It also depends on what time of year you visit, it's much more bearable to spend a few hours in the sun in April compared to August when it is hot - Remember Las Vegas is in the desert!
8 – The Food
You might not associate Las Vegas with good food but trust me there are some great restaurants up and down the Strip. Some of the top chefs in the world have restaurants in Sin City. There are restaurants for every taste and budget in Vegas. I love trying new places and visiting a few favourites. There are some wonderful steak restaurants, great American style places and every other world cuisine. Listing my favourite restaurants is for another post but there are certainly some good ones! 
If you're planning a trip to Las Vegas I would add all of these to your list. There is so much to see and do you will probably need another trip back. It really is like no other place I've been which is probably why I love it so much!
About the Author:

Caroline Towers is the founder of Dreamers who Travel.  When not travelling, she is researching & dreaming of the next trip!