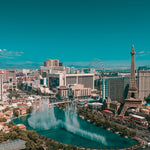 One of my favourite cities in the world, Las Vegas, has there is so much choice when it comes to selecting your hotel in Las Vegas. My top recommendation is to stay on The Strip, there is so much happening and you want to be near the action. Of course, there is accommodation in Vegas for all budgets. Having been to Las Vegas around 11 times, I've been fortunate to stay in lots of different hotels. Here are 3 of the best to pick on your next trip to Sin City.
3 Las Vegas Hotels to stay:

The Palazzo
This was the first hotel I stayed at on my first Vegas trip in 2011 (the second really after a 1 night stay in the now-demolished Sahara hotel). I've stayed there since and it lived up to my amazing memories.
The Palazzo is connected to The Venetian and so creates one huge hotel. All of the rooms in The Palazzo are large suites, with exquisite bathrooms, big beds and lots of space. The pool area is large but it still can get busy. The Palazzo has comfy sun loungers but if you are struggling to find a spot you can use The Venetian pools too. The inside of both hotels is like a Venetian Palace, it's stunning.
There are lots of bars and restaurants in The Palazzo, in fact you could stay your whole trip in the hotel but I recommend you get out and about too!

The Cosmopolitan
The Cosmopolitan is not as big as the other hotels I've selected which means it takes less time to walk from your room to the strip or the pool. This is something to consider when selecting your hotel.
The Cosmopolitan has one of the coolest bars on The Strip in it, The Chandelier Bar which is always worth a stop for a cocktail.
The Cosmopolitan has two pools but its best part is the rooms. We had an upgraded suite which to be honest I could have lived in. With two bathrooms, a sitting room and the bedroom there was plenty of space. However the ultimate benefit to a suite is the balcony overlooking The Bellagio fountains, you have your own personal show all day and night! It's certainly one of the best views in Vegas.

The MGM Grand/MGM Signature Towers
I've stayed in both the MGM Grand and it's Signature Towers. The MGM Grand is huge but once you get your bearings it's easy to navigate. I would only recommend upgrading to the Tower Suites, these rooms are have been refurbished and are nice and modern. If you can, try to get a Stay Well room because this has its own private check-in area and a few other "healthy" perks. The MGM pool is one of the biggest in Vegas, there's always plenty of sun loungers and it even has a lazy river. There are so many good bars and restaurants in the hotel too.
Connected from the MGM Grand by walkways is their MGM Signature Towers. I would recommend requesting Towers 1 or 2 as these are nearer to the MGM which means a little less walking. The Signature Towers rooms are all suites, some with balconies and have mini kitchen areas. The Signature Towers are at a slower pace with a nice deli and small bar, plus you get access to the Signature pools which are often not as lively. If you want a bit more happening you can still use the MGM Grand pools too!


Las Vegas is one of my favourite places to visit and it's made better by a nice hotel, especially if you're staying for more than a couple of nights. I would highly recommend enjoying a stay at any of these hotels all on The Strip and have the best time in Sin City!
If you love Las Vegas too, have a trip planned or are dreaming of going one day, grab your Las Vegas t-shirt from our boutique here.
About the Author:

Caroline Towers is the founder of Dreamers who Travel.  When not travelling, she is researching & dreaming of the next trip!

 

Dreaming of Las Vegas?

Shop our Las Vegas Travel Poster here.