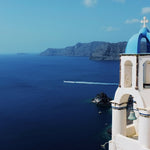 If you're visiting Santorini then it stands to reason that you are going to want to get the most out of your trip. The great news is that this part of the world is truly beautiful with plenty of variety in terms of activities to do and places to visit. This means that whatever you are looking for from your holiday in Santorini, you'll be able to find it. Here are some of the top things to do in Santorini:
Watch the Sunset
Watching the sunset from different parts of the world is one of the best parts of travelling and Santorini definitely doesn't disappoint. There are several places worth seeing it from in Santorini, but a trip to the cliff-top town of Oia is a must.  You can simply find a stop at the top of town to sit and watch the sunset, or book into one of the many restaurants that offer incredible views across the town. Plan in advance; it can get busy at sunset as everyone wants to experience these incredible views.
Visit the Real Atlantis
There is some really interesting history if you look back at Santorini, including a volcano that erupted 3000 years ago and caused the middle of the island to sink into the ocean.  Over more recent years, some of the ruins have been discovered including cliff top craters. If you want to see some tourist sites while visiting this part of the world & you're into history then this is a must place to visit.
Experience Local Culture
Whilst staying in your hotel and enjoying your holiday there can seem tempting, this part of Greece has some incredible food, drinks and people worth meeting. Get out and about, exploring different towns and trying food from local restaurants. You'll be treated to amazing tasted Greek food and likely be pleasantly surprised at the price tag that comes attached to the dishes. Locals are friendly and many will love to tell you stories about the town and its history – as well as recommend less tourist-orientated places to visit if you want to see the real Santorini.
See The Greek Islands From The Sea
When it comes to seeing what Santorini has to offer; seeing it from a different view is highly recommended Whilst you can walk around the island and take in much of what it has to offer – seeing it from a boat gives a whole different perspective. Not only will you get to see Santorini from your own boat tour but often tours will take you to other parts of the bay, take a pit stop at the Volcanic Island and even let you take a dip in the sea–making for pretty much the perfect day out.
If beautiful beaches, plenty of history, lots of sunshine and nice food are what you want from your holiday then you can be confident that Santorini offers all of these in abundance. If you're planning on visiting Santorini you won't be disappointed.
Santorini Wall Art
Once you've returned from your trip to Santorini, start your wall art collection with our Santorini wall print.  Shop yours here.