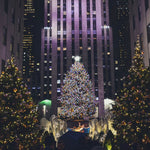 It's the most wonderful time of the year and there is no city like New York! NYC has an enticing energy year-round, but during the holiday season, it is truly another world. Whether you're a local or a visitor, we've got a whole slew of sights to get you in the Christmas spirit. 
The Rockefeller Center Christmas Tree
This one has got to be at the top of the list. The famous Rockefeller Christmas tree is a spectacular sight and worth braving the crowds. This year's tree stands at an impressive 79 feet tall. Beautifully decorated and lit up, this has been the background of numerous holiday movies. If you are looking for a Christmas experience in New York, this is the place to start. 
Ice Skating at Rockefeller Center
Beneath the Rockefeller Christmas Tree is the famous Rockefeller Ice-Skating rink. Not only do you get to enjoy a classic winter sport, but the view of the tree, the lights, and the skyscrapers above just cannot be beat. Be sure to book tickets ahead of time if this is on your list as this spot fills up quickly. 
Radio City Music Hall Christmas Spectacular featuring the Rockettes 
Radio City Music Hall is a classic NYC landmark. Their Christmas Spectacular first premiered in 1933 and has been dazzling audiences ever since. The Rockettes are famous for their synchronised line kicks and their performances throughout the show are awe inspiring. With additional scenes featuring the Nutcracker, Santa Clause, and a live Nativity, this memorable holiday experience in a world famous theatre is well worth the ticket. 
Santaland at Macy's 
Macys is not just the expert at Thanksgiving Day parades - they've mastered the whole season. Every year, the ninth floor of the department store is transformed into Santaland, a winter wonderland. From the ground floor entrance to the top floor, Macy's is decked out in decorations that attract locals and tourists alike every year. Whether you're looking to purchase a few gifts or just do some holiday sightseeing, you will definitely want to add Macy's to the list. 
Central Park Conservancy  
Central Park is the epitome of New York City culture. In the month of December, the Conservancy is lit up in holiday cheer with thousands of lights. When it snows, Central Park is a beautiful place to stroll with hot chocolate. If you really want to experience some magic, you can take a horse and carriage ride to see all 800 acres in style. 
Year-Round Christmas Store in Little Italy 
December may be the most ideal time to visit the "Christmas in New York" store, but keep in mind it's open all year long! This is the premiere place for all Christmas ornaments, decor, and accessories. If you're looking for a holiday souvenir to remember your trip, definitely consider taking a browse.  An added bonus is that it's located on the famous Mulberry Street within Little Italy and is great for seeing some more local New York streets. It's not a bad idea to warm up in one of the restaurants and indulge in some authentic Italian pasta.
Holiday Lightscape at the Brooklyn Botanical Gardens 
The above attractions can all be found in the borough of Manhattan, but if you're willing to do a little exploring, there are some special Christmas attractions in the other boroughs of New York as well. If lightscapes are your thing, you will need to make the Brooklyn Botanical Gardens a priority. The gardens feature a long trail with lit up landscapes along the way. Instalments include the Cathedral tunnel, Fire Garden, and Sea of Light. This experience truly feels like another world, and provides an amazing backdrop for some IG photos as well!
Let it GLOW at the New York Botanical Gardens 
There are actually seven botanical gardens in New York.  This one is located in the Bronx and it is worth the hike to see. All along the one mile trail, you will walk through lit up trees and installations portraying iconic buildings in New York on glittering canvases. The Fountain of Light, Fluorescent Fungis and Twinkling Topiaries are just a few of the spectacles to see along the way. This garden also holds a famous Holiday Train Show, perfect for all ages! 
Winter Wonderland at the Brooklyn Zoo
Who doesn't love a trip to the zoo?! The Brooklyn Zoo is world renowned and rightfully so. With hundreds of animal attractions, the zoo goes above and beyond to combine their love for wildlife with seasonal celebrations.  During the months of December and January, the zoo features animal lanterns, coloured tunnels, tree lightings and holiday decor. The zoo holds some entertainment shows perfect for families traveling with little ones, in addition to a live ice-sculpting demonstration. 
Christmas in New York
Nothing beats New York City during Christmastime. Whether you decide to plan it all out perfectly or just let the city take you, you are guaranteed to see some beautiful light displays and feel the Christmas spirit. For all the holiday festivities, The Big Apple truly has it all!  
Written by Annie Quinn
Love NEW YORK CITY? Shop our NYC Travel Print here.