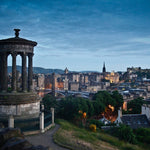 If you're planning a trip to Scotland's stunning capital, you won't be short of things to do. In fact, when it comes to things to do in Edinburgh you will be spoilt for choice. There are plenty of exciting things to do as well as some stunning sights to see. Whether you're looking to take in the architecture, the winding streets, or stunning scenery, here are some of the must things to do in Scotland's Auld Reekie.
THE BEST PLACES TO VISIT IN EDINBURGH
Edinburgh Castle 
One of the things that you have to do while in Edinburgh is to visit the castle. This has been voted as the top UK Heritage Attraction and it sits upon Castle Rock, providing stunning views of the city as a whole. 
Inside the castle, you will find treasures such as the Honours of Scotland and the Stone of Destiny. You can also enjoy the vast grounds as well as take in a guided tour. 
If you love Edinburgh Castle, shop the Edinburgh Travel Poster Print here.
Arthur's Seat
This has to be one of the most iconic places in Edinburgh, if not the whole of Scotland. Located within Holyrood Park, Arthur's Seat is an ancient volcano that sits some 251 metres above sea level. This gives the best possible views of the Lothians.
There are plenty of worn paths to be followed and you can also take in the medieval remains of St Anthony's Chapel. There is also the opportunity to enjoy Duddingston Loch where you can feed the ducks and swans. 
The Scottish National Gallery of Modern Art
If you're looking at other things to do in Scotland, the Gallery of Modern Art is a must while you are in Edinburgh. Even if you are not a lover of art, you will still find plenty to enjoy at this top attraction.
Spanning over two buildings, the gallery holds art from the likes of Picasso and Emin. There are also some stunning sculptures to see in the grounds.
Scotch Whisky Experience 
What is a visit to Scotland, without the opportunity to sample a dram or two? By heading to the Royal Mile you will find The Scotch Whisky Experience where you can try some of the finest whisky around.
Whether you are a whisky lover or a first-time drinker, you are bound to enjoy the guided tours as you learn all about the distilling process and what goes into making the best whisky in the world. 
Take in a show
When looking at things to do in Edinburgh, it is worth taking a look at the Festival Theatre. This has one of the largest stages anywhere in the UK and sees amazing shows such as ballet, opera, and music. No matter what time of year you are visiting, you will find that there is something going on.
If you look at the history of this theatre, you will find world-famous names such as David Bowie, Charlie Chaplin, and Laurel and Hardy have graced the stage.
Launch into space
Dynamic Earth is somewhere that is a whole lot of fun but is educational too. You get the chance to experience an interactive adventure that takes you on a journey through space and time. 
This is a great experience for the whole family where you will learn all about how the Earth has developed over millions of years.
SHOP YOUR EDINBURGH TRAVL PRINT HERE.