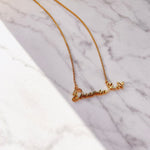 It's always exciting creating and launching brand new products and the new Dreamers who Travel Dreamer necklace is no exception! It's the first piece of jewellery we have created and we hope you love it as much as we do.

Based on our popular Dreamer sweatshirt design, the Dreamer necklace is designed for you, someone is following your dreams and has a love for travel.

Shop the Dreamer sweatshirt here.


The Dreamer Necklace

Each necklace is sterling silver and available in gold, silver or rose gold you can wear it whilst you're dreaming of travel and whether those dreams turn into plans or not, you'll always be able to wear this little piece of travel inspiration with pride.


Every necklace comes in one of our luxury jewellery boxes embossed with our palm tree logo. It's a box you can use to store your Dreamer necklace in, or it can be used again!

Like all of our products, for every sale made, we donate to global charities. You can read more about this here.

It's important to us as a brand to support charities that are helping to keep our beautiful world stay beautiful moving forward.
Style your Necklace


The Dreamer necklace looks great at any time of year and can be worn on a casual day or when it's time to dress up. The most important element of the necklace is it will inspire you to keep dreaming of seeing the world again.
Gift a Dreamer Necklace

The Dreamer necklaces also make a fantastic gift for anyone in your life who is always in wanderlust and loves to travel. This unique gift and the luxury box will make your travel-loving recipient smile we are sure!

For more information and to shop your Dreamer necklace click here.

Not sure which colour to pick? Treat your loved one to one of our gift cards here.
About the Author:
Caroline Towers is the founder of Dreamers who Travel.  When not travelling, she is researching & dreaming of the next trip!