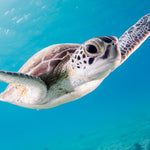 Here at Dreamers who Travel we are a small business who believes it is important to give back to charities that are helping to do good in the world. Since day 1, making a charitable donation has been something that was a non-negotiable for us from all sales from our online boutique.
Donating a Portion of Sales to Charity
As a travel-themed company, we decided to support charities that are making a difference in the beautiful world we live in. It's well known that travel can have a negative impact on the world and so we give a percentage from all sales to those charities who are trying to offset some of this.


We look to donate to charities that are helping to preserve the planet and educate the public about conservation.

One thing of note is theses donations are from all sales and not just profits. For us, you need to know that whatever you buy, we will make a donation.


We know there are so many charitable organisations that care about helping the world to flourish and this is why we will select different charities when it's time for us to donate. The world is constantly changing and there may be times that we donate to global emergencies to give support.

If you know of any charities that support the world then please get in touch and we will add them to our charity list.

We believe we all have a responsibility to help conserve our planet which we all reside in. If we can all play a small part where we can, perhaps we will begin to make a difference.


We are always grateful to all our customers for supporting Dreamers who Travel as a small business. We hope you will feel good knowing a portion of your purchase will be donated to charity.
Visit the online boutique here.
About the Author:
Caroline Towers is the founder of Dreamers who Travel.  When not travelling, she is researching & dreaming of the next trip!