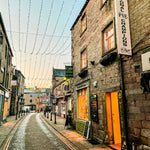 At Dreamers who Travel, we are fortunate to be based and live in the beautiful county of Yorkshire. There are so many stunning places to visit and there is so much history to explore. A trip to Yorkshire makes a wonderful staycation or is a must-visit place on any trip to England.

Yorkshire has the nickname "Gods Own Country" thanks to its incredible scenery and we can't deny it's a brilliant place to be!
Here are 10 of the must-visit places in Yorkshire
1 - Leeds
The city of Leeds is a great place to spend time. It's a vibrant city full of bars, restaurants and shops. The city is full of hotels for a long weekend break and a great night out. Leeds has a vibrant community and is home to The Yorkshire Playhouse and The Leeds Grand. There are the modern Trinity Centre and Victoria Arcade for your shopping, alongside Victorian arcades. There is always plenty of sport taking place and has some stunning architecture. Leeds is easy to access via rail, air and road.


2 - Bradford
Often overshadowed by Leeds, Bradford is another West Yorkshire city and one we are proud to be from. The city is full of history and was the main player during the Industrial Revolution. Bradford is home to the stunning Alhambra Theatre and next door you will find the National Media Museum. The area of Bradford is vast and within it, you will find beautiful villages such as Saltaire, a UNESCO World Heritage site.
3 - Hull
Another historic city within the East Riding of Yorkshire is Kingston Upon Hull. Hull is a city which was the City of Culture in ... It's home to the Humber Bridge and The Deep. Within the Old Town, you can get a feel for what life was like in times gone by. The pedestrianised Marina is a great place for food and drink, especially on a nice day.
4 - Richmond
Richmond is a market town in the heart of North Yorkshire on the edge of the Yorkshire Dales National Park. Richmond has plenty of pubs and hotels and makes a great place to base yourself to explore the stunning surroundings, it even has its own castle. You can also easily access the North Yorkshire Moors from Richmond, another beautiful area of Yorkshire.
5 - Sheffield
The Steel City of Sheffield in South Yorkshire has so much to see and do. It has a thriving music scene as well as plenty of sports. With a vibrant city centre with lots of choices for shopping and restaurants, it also has its tram system making it easy to get around the city. Sheffield also has the Peak District on its doorstep, Sheffield has plenty to see and do.
6 - York
York has lots of contrasts from old cobbled streets to unique shops, the city itself is surrounded by the city walls. There are plenty of museums including the Jorvik Viking Museum which shares the history of York from its Viking roots. York has plenty of quirky bars and restaurants to visit and makes for a great weekend away. The York Minster has stunning architecture and it's in the centre of York, near The Shambles with its independent shops.
RELATED: HOLMFIRTH VINEYARD: WINE TASTING IN THE HEART OF YORKSHIRE
7 - Skipton
The market town of Skipton is known as the gateway to the Yorkshire Dales. The town is full of independent cafes and traditional British pubs. Alongside Skipton Castle and it continues to host regular markets. You can also visit nearby beauty spot of Bolton Abbey.
8 - Harrogate
The spa town of Harrogate is always worth a visit to Yorkshire. From its great choice of hotels to a variety of bars and restaurants. You can also visit the Turkish Baths and the THS Harlow Carr.
9 - Swaledale
The area of Swaledale is the top of the Yorkshire Dales National Park and a must-visit place to see the true beauty of the Yorkshire countryside. Parts of Swaledale are almost untouched as you travel from village to village, each with its own traditional British pub. It's a great base for walkers and cyclists or if you want a weekend of peace and nature.
10 - Haworth
The home of the famous Bronte Sisters the background of Haworth was the inspiration for some of their famous pieces of literature such as Wuthering Heights.  You can visit the Bronte Parsonage Museum to learn about this famous family which is near the top of the Main Street. This bustling cobbled street is full of independent shops, cafes and pubs. It's a picture-perfect village!


When you're making your next plans for a holiday or weekend away then Yorkshire must be at the top of your list. Whether you're want to experience city nightlife or weekends in the countryside, it's really got it all!
There are so many incredible places you must-visit in Yorkshire, it was impossible to fit everywhere in!  This is just the tip of our beautiful county and what you can see on your next visit.
About the Author:
Caroline Towers is the founder of Dreamers who Travel.  When not travelling, she is researching & dreaming of the next trip!