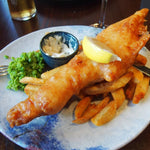 Food in England has a bad reputation at best. It's often accused of being bland, flavourless and beige. But when it's done well, English food can be hearty, comforting and totally delicious. Whether you're looking for relaxed pub grub or high-quality restaurant fare, there's great food on offer all around the country.
The Best Food to Eat Around England
Here are nine foods you absolutely have to try on your next trip to England.
Fish and Chips
Fish and chips is a meal best eaten by the seaside, where it's freshest, but it's easily available all over England. A fillet of fish, usually cod or haddock, is battered and deep-fried, then served alongside vinegar-soaked chips and a portion of mushy peas. It might not look like much, but it's a classic for a reason.
A Roast Dinner
Roast dinners are traditionally eaten as the main meal on a Sunday, either at home or out and about. Pubs and restaurants around the country fill up with hungry families and groups of friends, all looking for their roast dinner fix.
Slices of roasted meat (or nut loaf for vegetarians) are served alongside roasted potatoes, a mixture of vegetables – peas, carrots and parsnips are traditional – and plenty of gravy. Yorkshire puddings are a delicious extra, and don't forget to ask for sauce: mint with lamb, horseradish with beef, and cranberry or bread with turkey.
A Full English Breakfast
Full English breakfasts can vary from home to home, café to café and pub to pub, but you'll always find a combination of at least some of the following:
Eggs (fried or scrambled)

Bacon

Sausages

Baked beans

Grilled or tinned tomatoes

Grilled mushrooms

Black pudding

Bubble and squeak

Hash browns

Toast or fried bread
A first-class hangover cure if ever there was one, a full English will leave you stuffed and satisfied at any time.
Cornish Pasty
Cornwall is a beautiful part of England with some longstanding food traditions that its people are fiercely proud of. Cornish pasties have even been granted protected geographic status, meaning they can't be made anywhere else in the world and still be named a Cornish pasty – not even in its neighbouring county, Devon.
Crumbly, buttery pastry surrounds delicious chunks of cooked beef, swede, potato and onion. Best served straight out of the oven.
Beef Wellington
This is a bit of a special occasion meal around the UK, as it takes a long time to make from scratch, but you can find it at restaurants and gastropubs around England pretty easily. It's a puff pastry pie containing a fillet of beef (best cooked rare) that's coated in pâté and finely chopped mushrooms. Nobody's quite sure where this dish got its name, but everyone can agree on one thing: it tastes amazing.
Afternoon Tea
Afternoon tea is an English tradition that dates all the way back to the 1800s, but these days, it's more of an occasional treat than a daily ritual. Book yourself in for afternoon tea at a luxury hotel in England and indulge in delicate sandwiches, scones topped with clotted cream and jam, and a selection of cakes and other sweet treats, all served with a well-brewed pot of tea. It's about as English as it gets.
Sticky Toffee Pudding
A quintessentially English dessert, sticky toffee pudding is the perfect way to finish off a meal. A super-sweet sponge pudding, usually made with dates, is drowned in a rich toffee sauce and served with ice cream, cream or custard, depending on your preference. It's moist, rich and decadent – a perfect winter warmer.
Curry
If you're a curry lover, you'll be in luck, as you can easily get a good curry in almost every town or city in England. Chicken tikka masala is a classic choice that's served around the whole of the UK, though it's rumoured to have its origins in Scotland. Nobody would claim it's an authentic Indian dish, but it's certainly delicious.
England's multiculturalism means it's easy to find good-quality curry, especially around areas with large communities of South Asian people. London's Brick Lane is widely known as the curry mile, but it was a restaurant in Bolton that was named England's best spot to get a curry. Try a few for yourself and see which you like best.
Eton Mess
Eton mess is a dessert named after one of the most famous boarding schools in the world, Eton College. Pieces of crushed meringue are topped with fresh berries, strawberry sauce and plenty of whipped cream. Served in a big messy heap, it's a firm family favourite and a dessert that's loved by kids and adults alike. Tuck in!
There are so many delicious things to eat around England. The national cuisine may not have the same panache or world renown as Italian or French food, or the same complex flavour profiles as food from parts of Asia or South America, but English food is made to warm the cockles, cheer the soul and, most importantly, fill the stomach. It's wholesome and delicious. Try it for yourself.