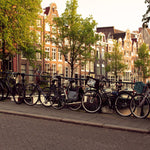 It's World Car-Free Day on September 22nd, a day that celebrates sustainability and encourages us to reevaluate our travel choices. With a world full with natural wonders, sometimes the best way to truly immerse oneself is by ditching the car and opting for greener travel alternatives.
Here are some destinations that don't require a car to get the best out of your adventures:
1. Two Wheels, Endless Possibilities: Cycling Tours
Destinations:
Amsterdam, Netherlands: Known for its intricate canal system and cycle-friendly streets, there's no better city to pedal around.
Tuscany, Italy: Imagine rolling hills, verdant vineyards, and stopping for a wine tasting session, all from the seat of your bike.
Tip: If you're new to cycling tours, start with short day trips to build stamina and get accustomed to the experience.
2. One Foot in Front of the Other: Walking Tours
Destinations:
Camino de Santiago, Spain: This ancient pilgrimage route promises a spiritual experience and a journey through Spain's scenic countryside.
Kyoto, Japan: Roam around traditional tea houses, ancient temples, and blooming cherry blossom paths, all at a leisurely pace.
Tip: Invest in a good pair of walking shoes. Comfort is paramount when you're clocking those miles.
3. Go Local: Public Transport and Trains
Destinations:
Switzerland: The Swiss rail network offers some of the world's most picturesque train journeys, including the Glacier Express and the Bernina Express.
Sri Lanka: Opt for the scenic train ride from Kandy to Ella and witness the island's lush green landscapes and tea plantations.
Tip: Train travels offer a unique perspective, so always keep your camera handy for those spontaneous shots!
Love Sri Lanka? Check out our Sri Lanka Travel Print here.
4. Waterways and Wind: Sailing Adventures
Destinations:
Greek Islands: Let the Aegean winds guide you from one idyllic island to another, each with its unique charm.
Maldives: A sailor's paradise, explore the pristine blue atolls and coral reefs of this tropical haven.
Tip: Even if you're not a seasoned sailor, many destinations offer chartered sails with a crew to manage the technicalities.
Our Maldives travel print is the perfect addition after your return from paradise! Shop yours here.
5. Destinations Best Explored Without Cars
Venice, Italy: The city of canals promises a car-free experience. Traverse its waterways in gondolas or simply wander its romantic alleys.
Zermatt, Switzerland: This car-free village at the base of the Matterhorn is best explored on foot or by bike, with crisp Alpine air as your constant companion.
Keep the memories of Venice alive with our Venice Travel Poster. Shop yours here.
Eco-Friendly Travel
Embracing eco-friendly travel not only reduces our carbon footprint but also offers a richer, more immersive experience. This World Car-Free Day, is a reminder to make greener choices, not just for a day but as a way of life. After all, Mother Earth has been the most gracious host to our travel tales; it's only right we treat her with the love and respect she deserves.
Eco-Friendly Prints
If love to explore and your walls seem a tad bare, indulge in our travel prints collection and let your decor echo your passion for travel. Dive into the world without leaving home—purchase a print here and let the journey continue! Shop yours here.